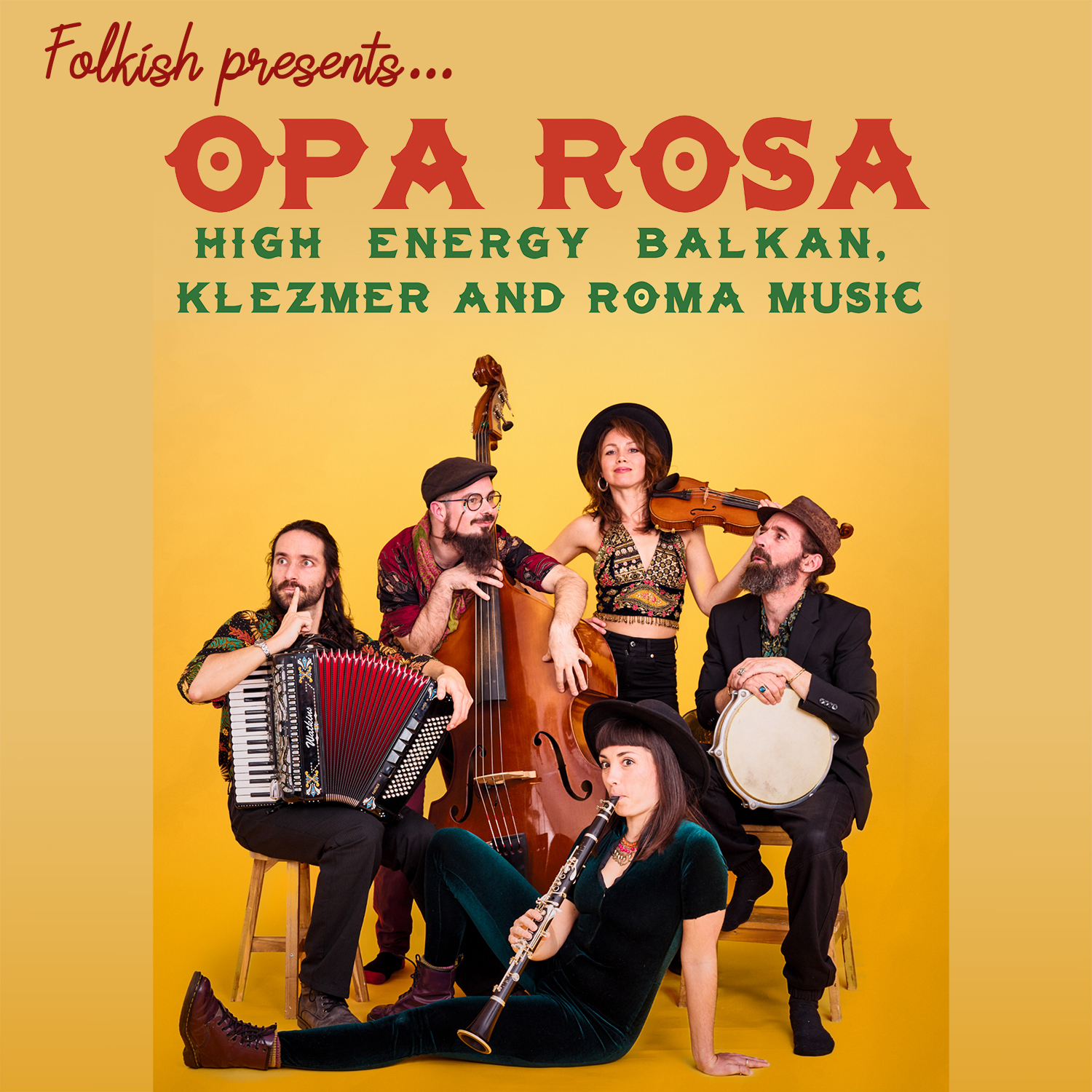 OPA ROSA
"Opa Rosa paint Eastern Europe with a whole new palette of colours – there's no doubt that the music they make is for the heart and the feet. It is incredibly uplifting, beautifully freeing. Music that is pulsing, heart-racing and, quite simply glorious…"– Gavin McNamara Bristol 24/7
Fast gaining a reputation as one of UK's most dynamic and virtuosic bands, Opa Rosa are an energetic acoustic ensemble sharing music from the Balkan, Greek, Klezmer & Roma traditions. With several combined decades of study and experience, all five musicians are well-versed in the musical traditions' syntax and significance, capturing all the joy and sorrow that these traditions are so renowned for expressing. 
Deeply rooted in Balkan traditions, Opa Rosa's music aims to explore and reinvent the motifs of Eastern Europe by subtly drawing from other musical influences such as Post-Rock, Classical and Jazz. With their lineup of violin, clarinet, accordion, double bass and percussion, their unique and refined sound consists of an explosive and grooving rhythm section combined with intricate melodies soaring over rich and nuanced harmonic structures.
Following the release of their debut album 'A Feast from the East' they have toured internationally and captivated audiences with their high-energy and engaging performances. Recent gigs include a sold-out performances headlining Bristol Beacon, Green Note (London), Trinity Centre (Bristol), The Cornish Bank (Falmouth), Jamboree (London) and various festivals, including headlining festivals such as Fire in the Mountain, Smuggler's Festival, Secret Garden Party, Valley Fest and Buddhafield.
Support  from Kay Warcaba (footage of Kay at our recent Hushed night)

£5 ON THE DOOR (+£1 FOR NON-MEMBERS)